Using the different light effect blending modes within PhotoShop allows you to blend images into each other very well. The light blending modes most often used include screen, multiply, darken, and lighten. They are found at the top drop down menu for each layer within the Layer Pallette window. Here is a link that will bring up some examples for you at flickr:
Light Effect editing
| flickr.com
Each of those from the above link will have descriptions from the various posters who did the work. Just click the images to view them. Below are some additional pieces from a few of the
Deanna Cremin Memorial Foundation
members at flickr. I hope you enjoy them...
These are from
gwennie2006
at flickr:
U2 | Ultraviolet (light my way)
• YouTube
one | Mary J. Blige, featuring Bono
Grammys 2006 • YouTube
CDcoverGrfx | flickr HiveMind
• In order of popularity
A couple from
GrfxDziner
at flickr:
_______________________________________________________
Some from
HiltonFan
at flickr:
____________________________________________________
Deanna Cremin Murder investigation UPDATE:
I also wanted to mention about the Deanna Cremin murder of March 29, 1995 in Somerrville Massachusetts, that her Mom, Katherine Cremin has received some more NEW information in the past week. The Somerville Police and Detectives are working very hard on this, as is the Middlesex County District Attorney's office. They are very, very close to solving this. If anyone has any information...ANYthing at all... regarding Deanna Cremin and/or the night of March29, 1995 behind the elderly housing project at 125 Jaques Street in Somerville, MA....Please get in touch with the Somerville Police at 617-625-1600. There is still a $20,000.00 dollar reward for the information that leads to an areest and conviction of her killer.....
"The dead cannot cry out for Justice;
it is a duty of the living to do so for them"
- Lois McMaster Bujold

A Mother's Quest for Justice
...July 27, 2006.
from
JusticeforDeanna
at YouTube: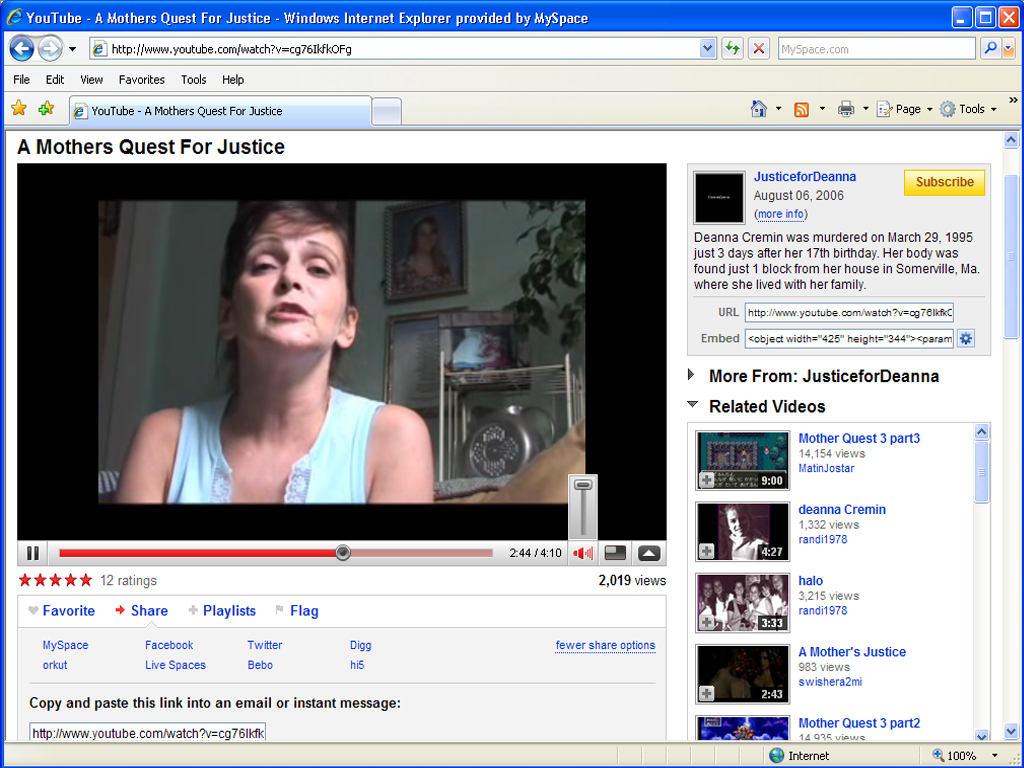 Here are the Newspaper articles......
| Articles on Deanna Cremin murder.
Somerville, MA
From 1995......
More recent articles (from 2005)...
...Just click the thumbnails to see the full size article.
Thank you all again very much!
flickr HiveMind
• 4Deanna search, in recent order
____________________________
flickr HiveMind | MyFoxBoston (recent uploads)
http://fiveprime.org/hivemind/Tags/MyFoxBoston/Recent